Solar Energy at Our Headquarters & Manufacturing Facility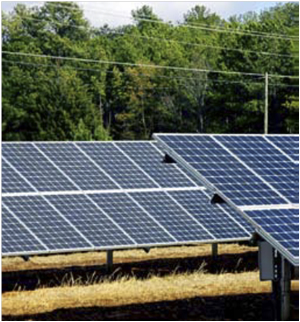 A 150kW grid-tied, ground-mounted array was installed at our headquarters and manufacturing facility in Warner Robins, GA. As one of the largest solar projects in Georgia, the project is interconnected with Flint EMC and the energy will be purchased by GreenPower EMC, the organization responsible for purchasing renewable energy on behalf of Georgia's Electric Membership Cooperatives. It is part of our company's green initiative to make sustainable, environmentally-sound business practices.
Download
First Century Energy – Manufacturing: Case Study
Press Release
http://www.prnewswire.com/news-releases/green-power-emc-adds-150-kw-solar-facility-to-growing-renewable-generation-portfolio-138781579.html
Solar Energy at Home
The idea for a line of Green products started when I was still in high school and became interested in solar energy. I vowed one day I would provide my home power from the sun and years later that dream has become reality. The Green movement and solar power have been tied together for as long as I can remember. You can't be interested in one without the other. It is much easier to talk about the advantages of using "Green" products when you practice what you preach at home.
It is my wish to take the same project shown here and incorporate it at the office. Until that time comes we will continue to practice our in-house recycling efforts and other green initiatives. We constantly are looking at packaging to be sure that we meet the maximum recycled content.
Featured pictures showcase the 32 kW solar system currently in use at my home.
| | | | |
| --- | --- | --- | --- |
| Picture #1* | Picture #2* | Picture #3* | Picture #4* |
Picture #1: Pole mounted array system with 40 racks in four north/south rows of ten each. Each rack, installed 12 feet apart, holds eight Siemens SR125 modules for a total of 320 solar-electric Modules. All eight modules on each rack are configured individually as six volt modules at 12 amps each. These eight modules are wired in series to create a 48 volt subarray at 12 amps. Polyphaser lightning protection with resets for both positive and negative legs were used in each box.
Picture #2: We call this the Solar Shed because it houses the inverters, charge controllers, switches, batteries and other equipment.
Picture #3: Close up of the ten Trace SW5548 inverters that are wired in five groups of two inverters. Thirteen Outback charge controllers; one for each subarray monitor the input.
Picture #4: Close up of the twenty-four Deka 12 volt lead-acid batteries rated at 1,247 amp-hours each.